I've been trying the NA II and it's the best mask for me so far. I first tried the clever Topaz chinstrap modification of Babette. But that chinstrap was bothering my TMJ and was not helping my rosacea either, so I wanted to try the headband version that comes with the mask since there is nothing on your cheeks. In fact, nothing touching your face except for the headband across your forehead and the prongs. Two problems: It didn't seem stable enough, and the hose over my ear pressed into my head in an uncomfortable way.
To stabilize it I added an extra velcro loop and also wrapped the velcro loops around the band instead of just having them stick to it like the original. (Using the double sided Velcro Babette introduced us to with the chinstrap mod). The light colored velcro loop is the additional one. It looks sloppy because this isn't the loop I actually cut, it just showed up better in the photo so I used it.
To help with the hose pressing into my head, I added two removeable shoulderpads. These shoulderpads (light gray in the photo) already had a velcro piece in place so I just stuck them on. (What can I say, it's another cpap fashion statement I don't use these shoulderpads in clothing anymore since it looks passe ). Here's a photo showing the modifications.
I'm really loving this mask. I used the prongs without any ayr-gel last night, and my nares are not sore at all.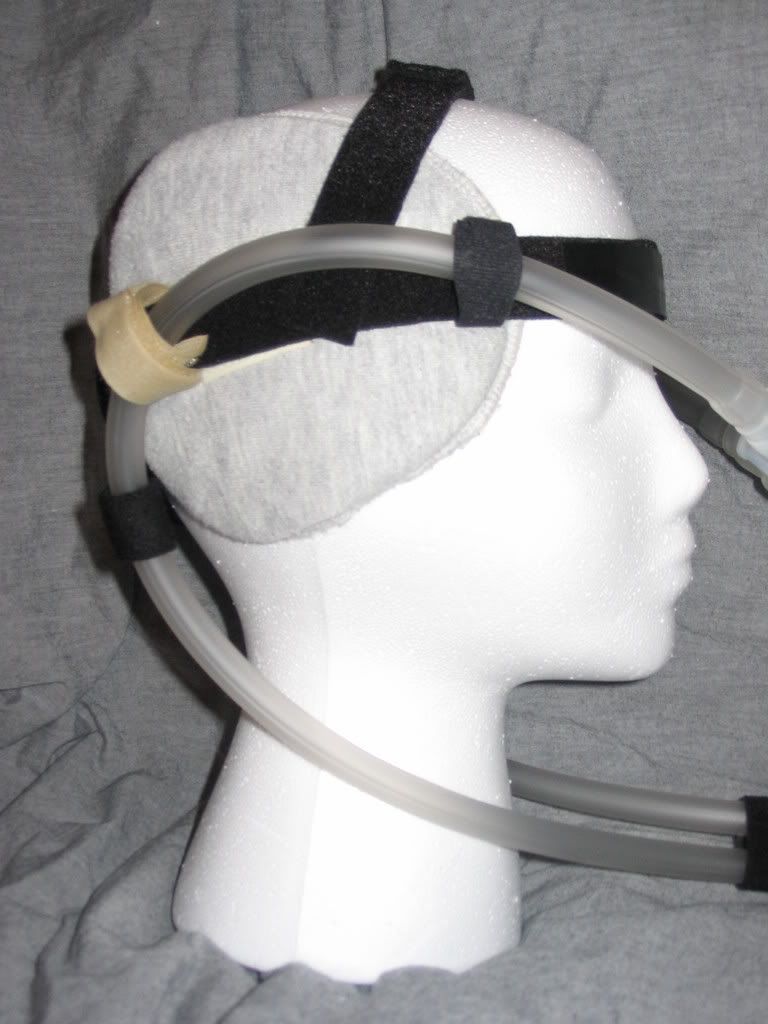 _________________
CPAPopedia
Keywords Contained In This Post (Click For Definition):
hose
,
CPAP