The other day, NapZ opined in "Thoughts on the nature of sleep studies",
viewtopic.php?f=1&t=68643&p=637373#p637112
, that there ought to be a "better way to do sleep studies", overtime for a week or a month, with relatively simple equipment , perhaps not as accurate as a PSG; but in the long run, more precise.
I posted my agreement with NapZ and went on to say that I put together what I feel is a pretty good home sleep lab for about $600. Like most of us on the forum, I am eager to share any knowledge which may benefit others suffering disturbed sleep. Hence, this post with a little more info on my lab, all of which I purchased out of pocket.
The equipment: S8 Autoset II, $350 (used); Generic Smart Card Reader, $35; Zeo, $150 (0n sale); CMS50E Pulse Oximeter, $90; Webcam, $25; Infrared LED's and parts, $25; my laptop. Total equipment about $675.
The software: Windows 7, ResScan 3.14, OpenOffice3 software suite, and Nimisis time lapse video app ($10).
So far, I've got a little less than $700 invested. I bought my autoset out of pocket because my insurance had already paid for an S8 Elite CPAP and I won't be eligible for an upgrade for a year or so. Although I had worked hard to get my AI down with the CPAP through manual titration, it wasn't till I got the APAP that I got it consistently under 1. Problem is, I still suffer from non-restorative sleep. That's why I got the rest of the equipment. It allows an objective assessment of therapy, and uncovers trends which are more difficult to detect with the "I feel better/worse" subjective method of measurement.
To show what it can do, I've attached a "summary" report from 8/02. The report includes respiratory info, sleep stage info, blood ox levels, and sleep positions all time synched. The detail in this report is to about a 5 minute interval. I can go to 30 seconds fairly easily but without more sophisticated synching ability, it's hard to get more precision, but I find the 5 minute detail is perfectly adequate to determine over the course of days whether or not a therapy is working.
Basically, to construct the result, I snip the reports as produced by the various equipments and paste them into a draw program. This allows me to synch them by aligning, matching, and equalizing their respective time lines. The hardest is the oximeter which doesn't have a real clock. But, I can do it by recording artifacts at know times.
Hoping someone finds this useful (or, at least interesting),
Jay
Links:
Infrared stuff:
viewtopic.php?f=1&t=65101&p=607701#p607701
,
viewtopic.php?f=1&t=65101&st=0&sk=t&sd= ... 15#p609795
My Video:
https://www.youtube.com/watch?v=duivU65Rn4o
My Zeo:
viewtopic.php?f=1&t=68424&p=635357#p635357
SUMMARY DATA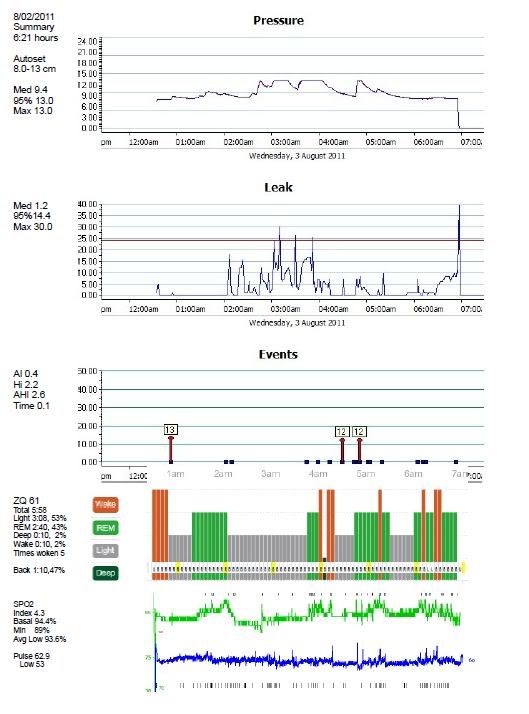 Detail of position
The yellow blocks are time markers 1AM, 2AM, etc.