Edit today Friday July 27/2012 to add information about the new
PR
S1
60 series machines with the heated hosed. Right now your only
software
options
are EncoreBasic and Encore Pro 2.8. SleepyHead is not yet compatible with the new models. It is being worked on though. Encore Pro 2.8 is typical PITA bloated pig PITA to use. I am recommending EncoreBasic. It gives every bit the same data (including waveform) that Pro does and is much smaller and less of a PITA to install and use. It also will install on 32 bit or 64 bit computers without a problem. Still Windows based
software
though.
Edit again..Monday Feb 25/2013
About Encore Pro....when the 60 series machines was released last spring they updated Pro to version 2.5 to be compatible with the new machines. They also released EncoreBasic at the same time. Basic is a slimmed down (22 MB vs over 300 MB Pro) version. It was still designed for DMEs and doctors office but they removed the SQL database hog and Basic doesn't care if you have a 32 or 64 bit computer. Basic is slimmed down in size but they didn't change the reports. Mainly the changes were with improved slimmed down office type of stuff...nothing that impacted the reports at all.
I installed both to compare the reports on my
PR
S1
BiPap. They are identical with the only drawback to Basic is that the only waveform graph that is available for viewing is the most recent download. Not a big deal...if someone just has to have every single one of their waveform graphs..just download daily and save as PDF on the computer.
The original first Pro version release to be compatible with the new 60 machines was 2.5...and then it was changed with the release of new ASV version and there were a couple of version changes (I didn't keep up with each small change) and now Respironics has done something weird with the version numbers...they went backwards. Version 2.11 is now the latest Pro version that I am aware of.
Pro has always been problematic. About 1 in 5 failed installs or people reporting some sort of problem (from the ones I have had contact with). Basic is much less problematic mainly due to the absence of the hog SQL database. There are still separate versions for 32 or 64 bit computers if someone wants Pro. There's nothing to be gained by using Pro other than old wave form graphs are available with Pro except some possible headaches and frustrations.
I don't know if Pro 2.11 is going to be compatible with the older machines using the Smart cards. There was some talk of no longer supporting the older machines last August. They may have done this with 2.11. I no longer have a Smart card and DT 3500 card reader or machine to test it. Basic still supports the older machines.
Stuff below is the original thread.
Okay, I came up with some examples of all the different
software
options
for
PR
S1
users with data capable machines. These are all mine from last night. I use APAP mode. Minimum of 10 cm & max 20 cm. It works for my needs. By sleep study history I was much worse in REM sleep. Supine sleep was not remarkable as far as event occurrence. Mentioning this for newbies as general information only. Just because this works well for me does not mean it works well for the next person. Been doing this for a little over 2 years now. Please also note that pressure changes even up to the max have never disrupted my sleep.
It is NOT a normal night for me so I will add a normal night for me in a separate post. I am using this example because of my (for me) unusually high AHI. Probably definitely related to narcotic pain pills I am taking. Vicodin 5 mg (generic name Hydrocodone with tylenol). In the past a single 5 mg Vicodin (prn back & neck pain) has not affected my reports at all but this one most likely shows the effects of increased dosage. I fell and broke my wrist last Thursday night. Colles fracture of distal radius if anyone wants to see an ugly fracture just google Colles fracture. Monday went to Orthopedic surgeon and an attempted closed reduction of the fracture was done not completely successful so I will have surgery and pins put in to hold fragments together this Friday. Horrible pain Monday night. Not much sleep do to pain. Yesterday more horrible pain and tremendous swelling. So yes, I took the pain pills all day yesterday and at night took 2 so that I could sleep. So I had substantial amount of narcotic in my system. OSA was the least of my problems and I figured if it got worse because of the drugs, then so be it. I would let the APAP do the job it was designed for.
Back to the
software
report
options
. BTW I use 32 bit Vista computer. All these
software
options
work just fine on my computer. EDIT...now using 64 bit computer without problems.
EncoreViewer and Encore Pro detailed reports (the only ones I really look at) are identical.
Encore Pro offers wave form report. Viewer does not.
Both are Windows based
software
and thus require Windows environment if you use other OS or a Mac.
EncoreViewer2.0 is more user friendly to install and use. It is the patient/user version that is sold for $99. Designed for 32 bit computers though a few 64 bit users have found a work around but it didn't sound very easy so not for computer novice.
EncorePro 2.4xx is the DME version. It is offered in 32 bit & 64 bit versions. I can be a PITA sometimes for some people but I have never had a problem with any version.
So here is EP report (set for unintentional leak I just realized I will fix that in a bit.) and one waveform section that includes a little grouping of events within a couple of hours or so of sleep onset. Please note that the time is off by one hour because of the
software
and DST. I went to bed one hour later than it says. So this time difference in all the reports is to be expected.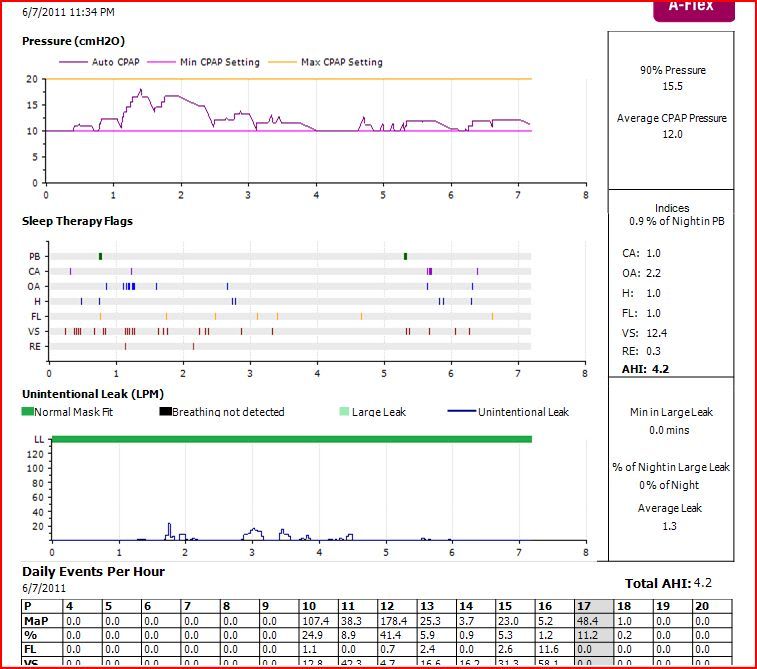 Leak Line above report with
software
changed to show Total Leak instead of unintentional Leak.

Waveform
Onkor online analyzer will work with Windows and Mac computers.
http://www.onkor.net/
Example of its report here and also example of zooming in on that little cluster that showed up on Encore Pro.
Zoom in can go much deeper if you wish. This closely corresponds to the Pro wave form data.
SleepyHead downloadable application file.
read about it here. First post to read mainly as developer updates this post with each build. It is in it infancy but it works very well. Works on Windows for sure and maybe Mac version is now ready.
http://sourceforge.net/projects/sleepyhead/
EDIT 09/12/11 now also works with Resmed machines and has added Oximetry available.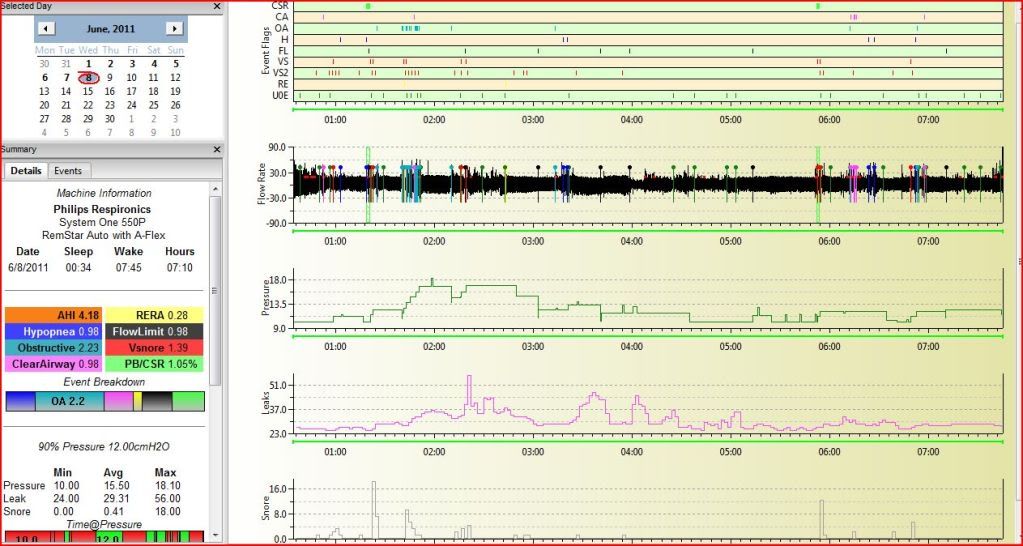 Again this zoom in can go much tighter but I tried to keep these at about the same resolution. You can zoom in on the other reporting areas if you wish like leak or pressure or snores.

So there are some viable alternatives to EncorePro or Viewer. I like the zoom in feature. Can't do that with Pro or Viewer.
I will post a "normal" night for me in a few minutes. Typing all this one handed is tiresome.